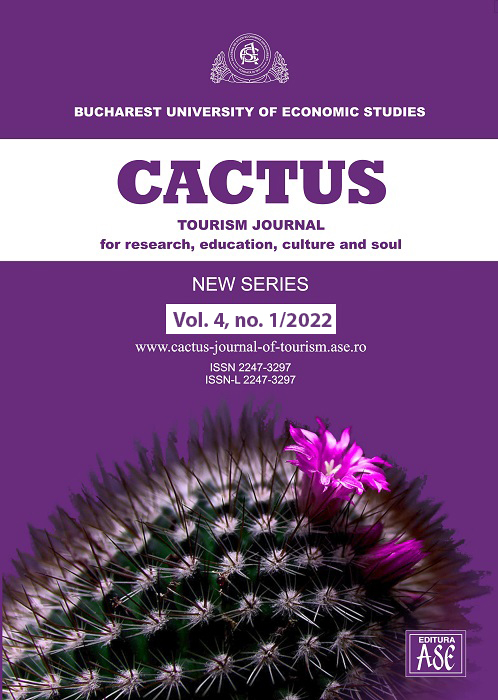 CONTENTS
Contents
---
I. EDITORIAL
Vlad Diaconescu
The European Year of Youth and Cultural Tourism

---
II. ARTICLES
Remus-Ion Hornoiu, Delia Popescu, Ionuț-Andrei Militaru, Silvia-Florina Raducanu
Ecotourism, a Resilient Solution in the Context of the COVID19 Pandemic?
Marta-Christina Suciu, Marco Savastano, Gheorghe-Alexandru Stativă, Irina Gorelova
Educational Tourism and Local Development
Iulia Ruxandra Țicău, Hadad Shahrazad
Changes in Post-Pandemic Travelling Behaviour. What Are the Effects of the COVID-19 Pandemic on Students' Travelling Interests?
Cristina Balint, Mihai-Lucian Lazanu
The Effects of The COVID-19 Pandemic Over the Tourism Sector: A Review
Cosmin Nicolae Mirea
Statistical Trends of the Tourism Industry in Calarasi County, Romania
---
III. STUDENT'S CORNER
Radu-George Baciu
Space Tourism. A Future Sustainable Business or Not?
Anastasia-Cristiana Dumitru
Behavioural Impact of The COVID-19 Pandemic on Romanian Tourists?
---
IV. INDUSTRY VIEWPOINT
Oana-Diana Crîșmariu, Mihail-Ovidiu Tănase, Iulian Tenie, Awatef Abdallah
The Response of the Romanian Hospitality Industry to the COVID-19 Pandemic. Focus on the Restaurant Industry